Welcome to the Old Georgians web site. Here you will find a wealth of historical documents and photographs from the 100 year history of KGV, including an expanding collection of school and college newsletters stretching back to the 1920s.

****************************************************************

OG NEWS - 2022 New Year News

Click here for the 2022 Red Rose

Dear Old Georgians

Hello everyone and hope you are looking forward to this years dinner in the 14th April!

We have an update on the fundraising for Queenscourt Hospice, with a piece that appeared in The Champion newspaper.

Old Georgians Link With Queenscourt For Their Centenary

In their centenary year, former pupils, students and staff of KGV Grammar School and Sixth Form College committed to raising funds for Queenscourt Hospice. The delayed celebrations from 2020 finally took place in the Autumn of 2021, closing with their Centenary Celebration Dinner at the Bliss Hotel. Originally setting a target of £1000, by the end of the celebrations the Old Georgians Association members had donated a grand total of £3110. This was recently recognised with a cheque presentation at the hospice, with Social Secretary, Jonathan Elliott, making the presentation to Andrea Parkes of the fund raising department at Queenscourt.

"The association pledges donations to KGV College each year, from any profit we make on the annual dinner, to go to assisting students who need additional funding. With the 2020 being our centenary and the hardships of COVID kicking, we wanted to do something to help a local charity through this period and we selected Queenscourt. The hospice has meant a lot to many families of former pupils of the school over the years. We originally set a target through a Visufund donation web page of £1000. Our membership rallied to the call and well and truly passed the original target. Thanks go to the membership from both the OGA and Queenscourt."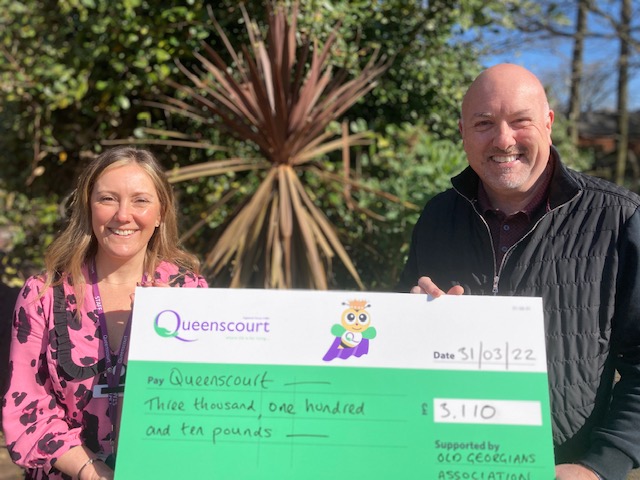 The Red Rose 2022
The annual magazine is now available!
You can find it by following this link.
The digital copy doesn't yet have the front cover as the printers create this and that will delay its release, so I have decided to send it without.
This is the full version, in colour and provides you with the best experience of the annual publication.
To manage cost, we have produced a cut down version of 44 pages and it is in black and white. This will be posted out to those who chose this option, at the end of January.

We hope you enjoy the edition and if it encourages you to write an article for us next year, please contact Jon Elliott.
Mike Harrop has written about life after the RAF. Matt Greenhalgh wrote a couple of years ago about Army life. If we have any other armed forces or public service experience that could compliment this next year, please get in touch.

The most difficult section to write and manage is the Obituary section. I aim to ensure I include everyone that I am told of, but I do rely on contributions for the personal detail.
If any of these seem a bit short, there is nothing I can do at this time. If you know of other OGAs not included, or any interesting information about those that are, please send it in to me.


2022 Annual Dinner
As you probably already know, the dinner is back to Maundy Thursday for 2022, this being
THURSDAY 14TH APRIL, @7.45PM.
The ticket price will be £35 and we plan to be at The Hesketh Golf Club. We will publish the menu at the end of February.
If you can reserve your place or places for your group as soon as possible, it will help the organising process. Many of the 200 at the Centenary Dinner will be returning, so please book early!
Full details are in the Red Rose.

Assuming that COVID permits, we will hold the AGM before hand and for the first time since 1918, we will vote in a new Chair.
Our thanks to Dave for his unprecedented 4 year tenure - he will step down to Vice Chair to assist the new person.
The committee has its nomination, but if anyone else wishes to stand or nominate, please notify the Secretary and come along to the AGM at 7PM.


2022 Golf Tournament
The 8th occasion of the tournament will take place on Maundy Thursday at the Hesketh Golf Club.
2021 was a great and successful competition, so please sign up with Chris Stitson as soon as possible. You can reply via this email if you 'Reply All'.


Quiz Night
Up to 2016, we held a Quiz Night annually. Interest waned and we suspended the event.
We are going to revive it this year and if you are interested in taking part, please register your interest by replying to this email.
It will be held in Southport, probably in the Autumn. Teams of up to six take part, so please indicate how many of you there may be.


Charity Donations
Thanks to everyone who donated to Queens Court Hospice this year.
To date we have raised a magnificent £3110.
You can still donate if you wish, using the link below.
https://visufund.com/old-georgians-centenary-celebration-donation?fbclid=IwAR1sW4orcZ9_CitxQA3o5M-YCifxr6sHBZH5yhWSBSh8iv4Z484Ry8cVjr0



All the best for 2022!!!

The OGA Committee.

We have a Facebook group available that you can join and chat to other Old Georgians on. Click Here to access it!

****************************************************************


To explore the pages, click on the appropriate link at the top of the page.

You can find an archive of KGV photographs by clicking here or following the link in the menu.

To become a member of the Old Georgians, update your contact details, or submit an update for the Red Rose Magazine, please click here.

The historical text in this document was prepared by Paul Bagshaw from material written by Geoffrey Dixon and David Arnold.

Disclaimer : This site is not officially affiliated with King George V College in Southport. It is run by the Old Georgians Association, a group of former students from the Grammar School and Sixth Form College for the benefit of all former pupils.